Get a Head Start on the Growing Season with Soil Blocks
Don't look now (and I would hate to jinx it), but it seems that winter is loosing its grasp over central Minnesota. The ravages of winter snow storms and below zero temperatures are being replaced with sun showers and melting snow.
However, that doesn't mean you can just start planting into the (frozen) ground. Your little seedlings wouldn't stand much of a chance and you'd break your tools digging a hole.
What we do around here is create our very own soil blocks to help the little seeds get a head start to the growing season. With a giant atrium in the Mani Shop, we've got a good place to let them stretch their baby root legs.
Dave W. (our Food Production Coordinator) likes to use the following formula to build our soil blocks for the little seedlings.
4 Parts Peat Moss

2 Parts Compost/Soil

1 cup Perlite/Vermiculite (helps prevent soil compaction)

.5 cup Pel Lime (helps balance pH of soil)

.25 cup Green Sand/Azomite Clay (adds micronutrients)

.25 cup Humate

.25 cup Kelp
This recipe is good for 4-5 trays that can hold 50 or so 2in blocks. All in all, you can make about 300 blocks, which is a good place to start if you're just getting into it.
It's a fun process, but can be a little dusty, dirty, and muddy. There's a lot of mixing by hand and sifting of small sticks and other larger bits so it can be best used for the block mixture.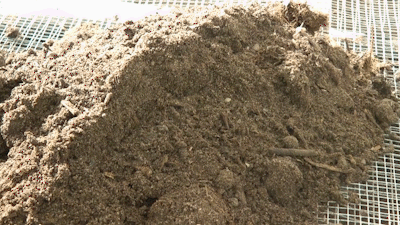 Here, Dave sifts the detritus from our homemade compost to get nothing but nutrient rich soil.
Once you've got the mixture down, add a little water and to make it nice and sticky (this is so it will hold its blocky shape. We have several types of soil blockers, but for the majority of our uses, we prefer the 2 inch model.
These soil blockers are good for 2in cubed cubes. They're good enough size for most starting seedlings.
Dave's already planted over 3,000 seeds since the beginning of February. The ability to get a head start is priceless when facing the short growing season in central Minnesota.
However, soil blocks have their little added benefits that will help your little seedlings more likely to survive.
Clearing the peat moss of detritus such as sticks and rocks is necessary for its use in soil blocks. Dave had to do it outside because of the dustiness of the peat. (It get's everywhere, he says.)
For instance, with air on the outside (vs. normal plastic cell trays you would find at greenhouses), the roots of your seedlings will do something called "air prune". This is where the the roots will sense where the air and soil meet, and automatically stop growing outward, keeping them within the soil. This is different from cell trays, where the roots of the seedling will continually search out for new areas to grow, leading the roots spiraling around the base.
Check out the difference between "air pruned" (left) and cell tray roots.
Air pruned seedlings will transfer easier and will give you a clue when they are actually ready to be planted into their forever home. The shock is reduced as the roots aren't actually "moved" all that much, as they're still within the soil block, itself. Seedlings who start out in a cell tray will have their roots removed from their safe warm soil beds (if even for a short while), as they are moved to their permanent location.
One downside of soil blocks is their ability to dry out easier than cells. Dave, recommends to water the plants daily to every other day. But, be cautious to not overwater.
Another downside of using homemade compost/soil for your blocks is that it can have unwanted additives that will make your seedlings struggle. They can have detrimental fungi or other pathogens that you wouldn't want transplanted onto your little seedlings.
Dave recommends a process called Soil Sterilization.
This process is nothing more than heating up the base compost (or soil) before you add it to the soil block mixture.
Soil Sterilization Process
Indoor Method
Set oven to 200*F

Place soil (or compost) in an oven pan

Place soil in oven and let it cook for around 30 minutes.

Soil should be free of unwanted pathogens
Outdoor Method
If you want to keep your soil outdoors without using your oven

Place a clear plastic sheet on your growing plot (or where you want to grow your seedlings without using soil blocks)

Keep it in place for around 5-6 weeks. The plastic will act as a greenhouse and capture excess heat from the sun, "baking" the soil and even removing weeds.
Once you've been able to do either of these methods, there should be nothing left by good quality soil that you can use for your blocks.
This family is using plastic on their raised beds to help sterilize their soil plots.
So far, Dave has planted storage onions, leeks, kale, spinach, Chinese cabbages, arugula, collared greens, mizuno, and a ton of other cold crops and greens. So, in a mere matter of weeks, he'll be able to transplant them to the hoop house where they will be able to grow in a more natural setting without the difficulties of cold winter nights.
How have you been beaten the winter? We'd love to hear! Leave your comments in the comment section below. If you have any questions about soil block making or the process of soil sterilization, please let us know. We'd love to answer your questions.